Expo Decorator
The Honolulu Marathon is pleased to announce that International Convention and Event Services (ICS) will be the Honolulu Marathon Expo Decorator.

Please feel free to contact ICS with all your Expo Decorating needs.
ICS Contact information:
Tanya Lasconia, Senior Account Executive/Supervisor
Direct Office #808-832-2440
Office Fax #808-832-2431
Email: tanyal@iceshawaii.com
1004 Makepono Street
Honolulu, HI 96819
Phone: 808-832-2430
Fax: 808-832-2431
Website: www.icshawaii.com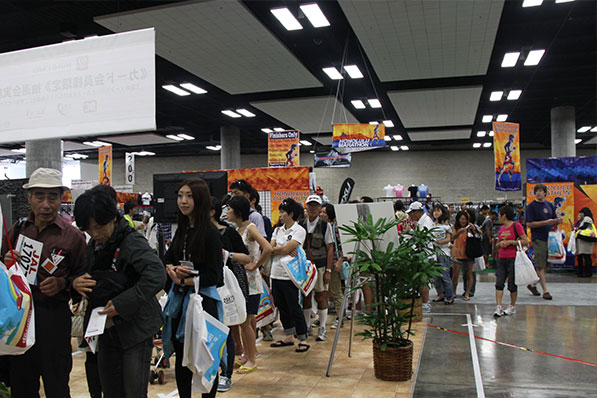 ICES will be mailing a Show Decorating packet to every registered vendor of the
Honolulu Marathon Expo as we get closer to the show.
Show colors
Carpet – Grey
Drape – Red or Teal
8′ High RED OR TEAL Back Drape – Color Alternating by Row – 1st Row All Red
3′ High RED OR TEAL Side Drape – Color Alternating by Row – 1st Row All Red
Exhibitor Information
and Booth Reservations
Honolulu Marathon Expo
(Including Japanese and International Inquiries)
Booth Size
10 feet x 10 feet
(For larger sizes combine contiguous booth spaces.)
Booth Includes
Each booth includes 1 – 6 foot skirted table,
2 – chairs,
1 – waste basket along with pipe and drape enclosure, 8′ high back
and 3′ high sides.
No carpet or other furnishings are included.
A full catalog of rentals, telephone, electrical and other show services will be sent to all exhibitors. Or Click menu bar "Expo Decorator"
Show Colors
Carpet/main aisles only – Grey
Drape –
White and Blue
Payment Terms
Full payment is due with signed contract.
Cancellation
Deposit is non-refundable
Marathon Sponsors hold exclusivity in their area.